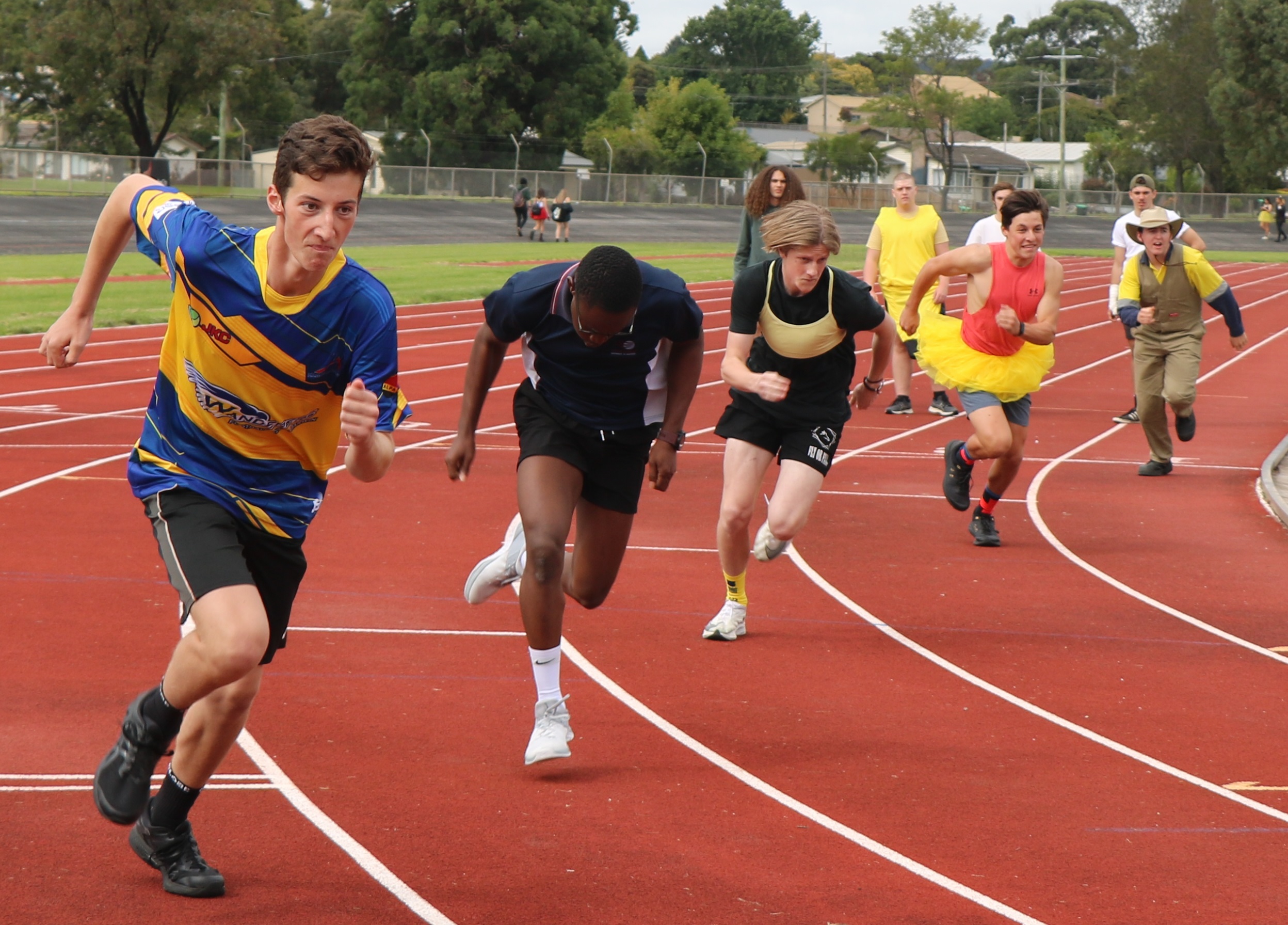 A perfect autumn day hosted Kurnai College's Inter House Athletics Carnival at Joe Carmody Reserve in Newborough on Tuesday 3rd of March 2020.
Students from across the College came together and participated in various track and field events, novelty events such as limbo, longest footy kick or the balloon toss or simply spent a relaxing day catching up with their friends.
Forsyth once again prevailed and took out the Kurnai College House Athletics Championship Cup winning by a margin of 148 points ahead of runners up Freeman.
Topping the efforts from the Swimming Carnival, the Campus again experienced its highest participation rate, a credit to all our students and to our parents for getting onto compass to provide consent for the students to attend.
It was fantastic to see the students competing, striving to do their best for their house and get into the spirt of the day by getting involved and dressing up in their house colours. A congratulations to all our competitors and we wish our top performers all the very best on their efforts for the Wellington Athletics Carnival that will be held later in the term.
A huge thank you to all of the staff and students from Kurnai College for their efforts and to the Health and Physical Education staff for their professional running of the day.
HOUSE CHAMPIONS

| | | |
| --- | --- | --- |
| 1st | FORSYTH | 1041 Points |
| 2nd | FREEMAN | 893 Points |
| 3rd | SIDDLE | 841 Points |
| 4th | THORPE | 814 Points |
AGE GROUP CHAMPIONS

YR 7

Cade Reyke

Krystal Luke-Collier

YR 8

Hayden Motta

Milla Randall

YR 9

Lachlan Freeman

&

Joel Tractor

Jenna McLauchlan

YR 10

Zach Schill

Claire Irving

YR 11

Zachary Casey

Alannah Webster

YR 12

Timothy Hutchinson

Bridget Cain
INDIVIDUAL RECORDS BROKEN

| | | |
| --- | --- | --- |
| F YR12 800m | Bridget Cain (FORS) 2:45.41mins | Old record: Bridget Cain (FORS 2019) 2:49.08mins |
| F YR12 400m | Bridget Cain (FORS) 1:13.10mins | Old record: Bridget Cain (FORS 2019) 1:13.47mins |
| F YR11 Long Jump | Gabrielle Hines (SIDL) 3.86m | Old record: Shae Edwards (FORS 2014) 3.7m |
| F YR11 High Jump | Anna Soloman (FREE) 1.38m | Old record: Sydney Simpson (FORS 2009) 1.38m |
| F YR11 Triple Jump | Anna Soloman (FREE) 8.22m | Old record: Ellie Pollutro (FREE 2016) 7.9m |
| F YR11 Discuss | Alannah Webster (FREE) 21.7m | Old record: Michaela Lawless (FREE 2014) 16.18m |
| M YR11 High Jump | Lachlan Freeman (SIDL) 1.62m | Old record: Jack Brown (2005) 1.62m |
| M YR11 200m | Zachary Casey (FORS) 24.75 | Old record: Zhijie Wan (FORS 2016) 26.00s |
| M YR11 Triple Jump | Lachlan Smith (FREE) 10.17m | Old record: Harrison Taylor (FORS 2018) 8.6 |
| M YR11 Discus | Kaleb Chapman (THOR) 27.77m | Old record: Brendan Briggs (THOR 2016) 23.25m |
| M YR11 Shot Put | Declan Arnold (FREE) 11.1m | Old record: Veerayotin Ounjit (FREE 2019) 10.5m |
| M YR10 Discus | Lachlan Bell (THOR) 30.56m | Old record: Ashley Walker (2001) 29.3m |
| M YR7 High Jump | Cade Reyke (FORS) 1.52m | Old record: Changkouth Jiath (SIDL 2012) 1.50m |
| F YR7 Long Jump | Sa Wha Nar Bry (FORS) 3.9m | Old record: Vanessa Wilson (FORS 2012) 3.82m |