Doug Foster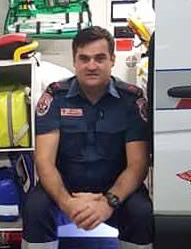 Doug Foster graduated from Kurnai College in 1997. Doug was always a pretty social, sports mad kid with school not a big priority early on.
"I'd have to say I wasn't a glowing 'A grade student' (certainly not in my earlier years). But as I got older I started to realise the importance of working hard in order to improve my grades. Some of the classes I was somewhat good at were P.E, Outdoor Education, Woodwork and Music. The last one I'm not sure I was good at, but enjoyed it nonetheless. The classes I struggled with most were Maths and Science. Funnily enough these ended up being the two major requirements of being a paramedic" (the job that Doug would later find his way to a number of years later).
Kurnai College did have a positive impact on Doug's life. "For me, knowing that no matter how disruptive I may have been, or how difficult I felt school was, I knew every teacher was supportive of me and encouraged me to strive to do better. I never felt judged by my teachers (even though it probably took every bit of their strength not to). So for me having that continuous support from my teachers certainly played a major role in shaping who I'm today."
Doug's advice for the next generation of Kurnai students is that, "If you have a desire for something and are willing to put in the effort you really can achieve it. You may not achieve it at first but if you continue to try it will eventuate. I say this because it took me 4 tries to get into the Ambulance Service before I was accepted and I have now been working with Ambulance Victoria for 17 years and still enjoying every minute of it".