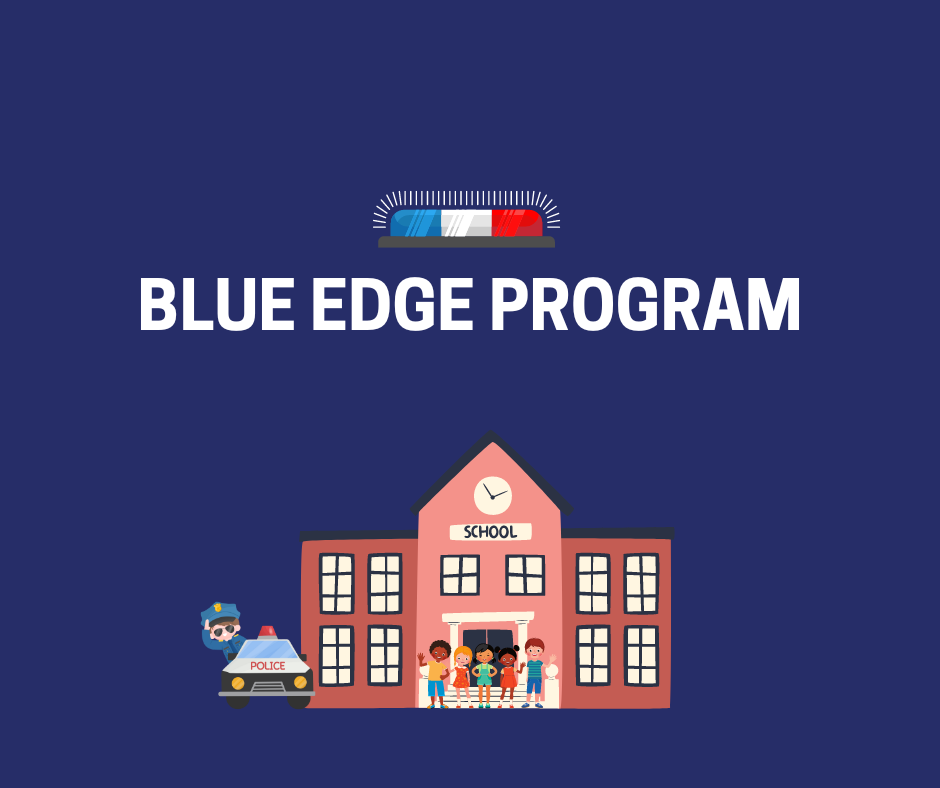 The Blue EDGE (Educate, Develop, Grow, Empower) Program is once again been offered at the Churchill Campus this term. The eight-week program which is run by Blue Light in partnership with Victoria Police combining physical training, mentoring and life skills.
Over the duration of the eight-weeks, the selected 12 students from Years 8/9 participate in two sessions a week that aims to increase the student's resilience and wellbeing using fitness and activity-based learning. In partnership with Victoria Police members, the program builds positive relationships between young people, the police and wider community support networks.
---
Written by Claire Lindsay (9A)
Blue Edge was an experience that I will never forget, the program builds on your overall skills like collaboration, communication, leadership, self-awareness, fitness, life skills, reflection, breaking of bad habits, continuation and growth of positive habits, confidence, understanding of issues in young people and plenty more.
This program was a reason for me to attend school and kept me actively involved in all we did. I made new friends and got to know people I didn't know or have a good relationship with before and as the program progressed, I realized I had gained relationships with the whole collective that I never would've thought possible without the program. It helped me work in a team a lot better than I used to and especially working in a team with people I didn't know, it's helped me speak up about things that I'm passionate about and in general, express my voice in a group collaborative, but also helped me listen to those in my group or whoever is talking and getting me more engaged in conversations and situations.
Collaborating with Police
In the program we got to collaborate with some amazing Local Police Officers (Jonty, Clare, and Allison), in and out of their uniform, throughout the program they assisted us in as many of our sessions as they could joining us in fitness, breakfast and our weekly topics. Before meeting the officers I didn't know what I thought of police except that I thought they were scary and other things from past experiences, but throughout the term and getting to know them more, getting the chance to see their personalities and traits was a big eye opener, and made me realize that they aren't scary at all and that they're normal people that are just made out to be the opposite, and that when they have the uniform on they are no different to without it on, they're just doing a job and that doesn't mean they are whom you assume.
One of the best times I had with the officers was when they came to school in their uniforms with all their gear and the police car, we got to ask them questions about their jobs as officers like what inspired them to become Police Officers. How long have you been a Police Officer? What training did you go through to become a Police Officer? What is the most confronting part about being a Police Officer? Etc. During that session the Police Officers had shown us how they take fingerprints and we got to do our fingerprint sheets, they showed us the parts of their uniform/vest and how the
equipment is quick to access (in case of those need for speed moments), we got to see the cop car which was so much more enjoyable to be inside of then outside, but most of all the group loved the handcuffs, cuffing each other, having a few giggles and jokes and enjoying ourselves in a good manner with the police equipment.
Sessions/Group Values
In the earlier stages of the program the group had created a List of Group Values sheet that we all contributed to, this consisted of how we treated each other and objects, listening to each other, letting everyone contribute, the respect we all showed toward each other, to have patience with one another and more. We used that sheet in every one of our sessions, keeping it hung up where it could be seen and remembered and adding to it when we felt that we as a group agreed to and in saying that we all had to sign the sheet (including Jonty, Clare and Allison and our instructor Casey) making sure that we vowed to follow it.
Personally, my favourite session/s were about Mental Health and understanding and coping with it. This is a subject that I'm really intrigued by but was still cautious about, the sessions allowed me to further understand the spectrum of Mental Health, the different looks of it and how others and yourself can cope with Mental Health, this helped me understand that people express and cope with Mental Health differently and also showed me some signs that people struggling with Mental Health might act or look like and vice versa.
The Summit
In our second last session, the group spent the day out at the Summit, this enjoyable day consisted of all of us using our group conversations and activities to collaborate, communicate and listen, focus, face our fears, persevere, support each other, and still have fun and enjoy every moment.
Our first activity was a game that I'm calling Tiles in this activity we all received a circular foot-sized floppy disc thing that we would have to use to get from one place to another, but the catch was that the tile had to be touching a body part at all times if we failed to follow that rule that tile would be taken off us and we would have to sacrifice someone's eyes to get one back, another catch was that we couldn't touch anything else but the discs to get to the other side, we could hold onto our partners but we couldn't touch the actual ground itself because it was now lava. Tiles aimed to get us all communicating in a way that wasn't too loud or too quiet but just enough talking so that we could focus on the task we had but also to listen and communicate with our partners and overall team to make sure we were all ready and understood what to do, especially if someone around you had a blindfold on. In the end, it took us one failed attempt at Tiles to understand and plan our attack, we all encouraged each other whether we had crossed the lava or not then fully.
The feeling when we had completed that activity was happy, accelerating and provided relief that it was over, we had a clearer understanding of what communication works best for our group and that patience, communication and focus are key to success rather than rushing and worrying about time.
Our second activity was Half Pipe, in that activity, we all received half of a pipe in a semi-circle shape that we would have to roll a golf ball through and then land in a bucket. The catch for this activity was that the golf ball couldn't roll back too far, the bucket could move as many times and wherever it liked and three people had to be blindfolded and be the last ones to roll the golf ball into the bucket. Half Pipe aimed to get us communicating a lot more and working as a team to plan out what we would do in certain situations, at times during Half Pipe we had to use patience and also use our voices to allow us to stop, think, plan and act, this was a big help in the challenge as we were now more focused on taking things slower and thinking our acts through before we acted and we had a better understanding of what communication works best for us we used these skills every time things got difficult and especially when the bucket moved and we had to re-route.
The feeling when we completed this task was amazing, we felt that we had done really well and we all would've done it again if we had the chance, we all felt that the last activity Tiles assisted us a lot in how we did this task, we felt that Tiles gave us more of understanding as to how we communicate and what works best for us when communicating and that it also allowed us to consider patience and focus a lot more instead of worry about the time. We thought we had learnt a lot from the first activity and took in what we had leant and will interpret that into other challenges we'll face.
The third activity was High Wire, and it's exactly what you think when you hear the name, it's a single wire that you have to climb up a tree to reach, but not to worry you do have a harness on because no one wants the paperwork! This activity got us facing our fears, encouraging each other and ourselves, being resilient and pushing ourselves out of our comfort zone. To do this task we all chose a partner that we would go up with to give a handshake to when we met at the halfway mark on the wire, and then if we had the confidence we could sit, lay, and then lean off the wire until we could flick ourselves upside-down like spider-man as we slowly got to the ground, and for those who weren't so scared of heights had the opportunity to blindfold themselves while they we up there to add to their adrenaline.
I found this activity full of adrenaline, thrilling, fun and exciting, something new and something I would love to do again, for some it might have been something they never want to do again, it might have been frightening, way out of their comfort zone, a fear that they had attempted to or had faced and intimidating (which was completely fine!). This allowed me to understand people's fears and that when the voice in your head tells you that you can't do something it's just a false opinion that your mind blows up into your head, making you feel that your head is right and that you can't but you can, and sometimes it just takes a bit of time and support until you conjure up that confidence and tell your mind you can and remain positive and resilient.
Finally, the last activity we participated in was The Bush Challenge which consisted of 5 different obstacles that we had to work in a team to complete as fast as we could. At each obstacle there was a puzzle piece that we had to take with us until we reached the last activity, the pieces couldn't be thrown, or left behind and had to be touching a part of the body, although they could be passed to one another.
The first obstacle was a mud wall that we had to climb with a rope that we could latch onto to assist us in getting to the top, only six people could go at a time because there we six ropes in total, the person with the puzzle was able to pass the piece to anyone at the top if needed.
The second obstacle was a foam pit, for this challenge we entered through one end of the pit and had to climb a flat wall to get out of the other. For this activity we immediately knew we needed a strategy, our strongest members went first and climbed out themselves who could then assist with helping others climb out, the other part of this strategy was to get other stronger members to stay in the pit to boost others up the wall, we passed the piece from this activity straight through and allowed the last member, who was our Police Officer Jonty, to use his strength to pull himself up with the assistance of the strength of the group like they say, there's strength in numbers.
Our third obstacle was what I'm calling v-wire, a wire shaped like a V that had to be balanced on by a pair, the way this worked was that while we were on the wire not only did we have to balance but distribute our weight, to be successful in this obstacle we had to lean into our partners and slowly make our way from the closest part of the v-wire to the furthest making sure that we kept our hands flat to each other. Those people with the puzzle pieces had to work out the best way to carry the puzzle pieces across the wire, luckily only one piece had to make it through this obstacle of the two we had previously collected, eventually, we found that holding the piece up to one another was the easiest way to stay balanced.
Our fourth obstacle was a game to assess our memory, there were wooden posts of all sizes that had colours on the tops, but we couldn't see these colours because they were covered by tin cans. We had explicit instructions that we had a certain amount of time to pick which posts we'd uncover, we had to enter one way and exit another, but we also had to wait for one pair to finish and exit fully before another pair could enter, if we failed to follow these instructions we would face a time penalty. I'll tell you what the last two posts are "so difficult."
Finally, for our last obstacle, to end it all was a puzzle piece, no one knew what it was unless they had been to The Summit before or forgotten in that case. As a typical puzzle goes we all immediately knew to get the side pieces done first and then work our way in, it was only a four-by-three puzzle, so it wasn't too extravagant. When we had figured out what the puzzle was it made it a lot easier to put the pieces in their correct spot which involved rotating and shuffling pieces to different spots until we finally had our end product of a target.
The Bush Challenge was a big reflection on how far we had come throughout that day, collaborating, communicating, listening, problem-solving, using patience, encouraging each other, focusing, persevering and being resilient. It was a great team experience that also helped us understand ourselves and our teammates, it was insightful and showed us new ways to work in teams as well as work on our strengths as individuals, and I can guarantee it was a worthwhile experience.
Summary
Overall, the experience of Blue EDGE was thrilling and influenced me so much when it came to attending school, and it allowed me to grow and learn so much in just the span of a term. Throughout Blue EDGE I've improved on skills like collaboration, communication, listening, focusing, relationships, perseverance and resilience but also allowed me to understand more about myself, my decisions, influences, emotions, and what things I'm comfortable with and vice versa. Something I have found that I now feel more comfortable and confident with after Blue EDGE is my voice, I feel that I can speak up more in groups and speak up about things that I'm passionate about without feeling that I'm being spoken over or interrupted, I now feel that my opinions and views matter, and I finally feel that I'm heard and not just seen. Also, on that note, I feel more confident in my voice, and I now see that I'm comfortable with my voice and how I use it.
Blue EDGE is a program that I would like to see continue, especially in the Valley, it has such a positive effect on students and helps them build strong relationships with not only peers but adults as well. This program helps students become better leaders, and overall better versions of themselves and makes students strive to do better and push themselves out of their comfort zone, this program is great for future job preferences and deeply affects how you work in those environments. I strongly suggest taking this chance if offered.